The Speedline Parts/Supercross BMX Australia team was well represented at the Bendigo Gold Rush and the final round of the Victorian Junior State Series.
Results:
Shaun Collins 1st 40-49 Cruiser
Will Oliver 1st 10 Expert Boys
Amie Main 1st 30-39 Women's cruiser
Byron Blyth 3rd 12 Expert Boys
Emerald Blyth 4th 9 Expert Girls
Tim Austin 3rd Vet Pro
Glenn Main 5th Vet Pro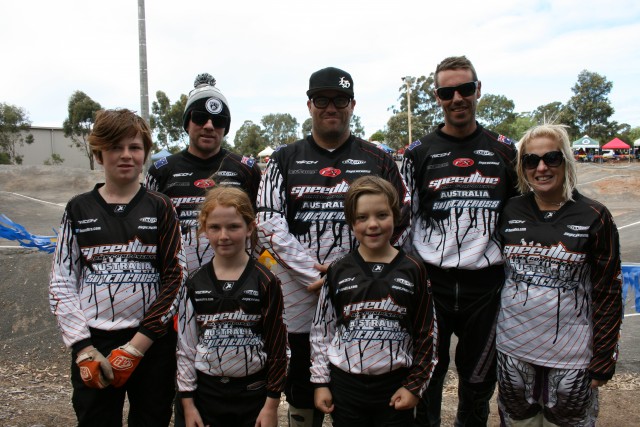 Victorian Junior State Series Results:
Emerald Blyth 1st 9 Expert Girls
Byron Blyth 4th 12 Expert Boys
New Additions
The team has a bunch of new additions that we are pleased to announce.
Brian Alexander
Amie Main
Byron Blyth
Emerald Blyth
Will Oliver
Austin Forrester
We should have the new jerseys rolled out by the time the National Championships roll around.
The Speedline Parts/Supercross BMX Australia team is proudly supported by Speedline Parts, Supercross BMX, Dirt Designs and bmxultra.com
Speedline Parts
Speedline Parts is a bicycle parts manufacture located in Southern California. We currently produce forks, crank sets, pedals, stems, chains, headsets, brakes and seatpost clamps. All of our products are tested and used by team riders. Speedline Parts are distributed in Australia by Supercross BMX Australia.
Supercross BMX Australia
Supercross BMX is a leader in BMX by design, innovation and manufacturing. The Supercross ENVY BLK is the lightest carbon race fram. The Supercross ENVY is the lightest production Alloy frame, full stop! However there is much more to the brand than the ENVY frame. There is also the alloy BLUR and the cromo 450z, both of which have the same race winning geometry as the ENVY. Supercross BMX currently produces some of the most respected cromo/heat treated handlebars and forks in the business as well as hubs, stems, seats, posts, tires, cranks and a while lot more.
Did you know that Supercross BMX Australia is the exclusive distributor for Supercross, Speedline and Anarchy products?
Supercross only offer warranty and support for the products purchased through our approved dealers.
We are proud to support local industry and local riders who also buy local.